During the time the Brisbane Ghost Hunters have been running, the website has won various awards. We thank the organisations that have taken the time to review our site, and whole-heartedly thank them for these awards that they have bestowed on us.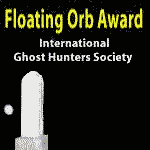 The Floating Orb Award is awarded by the IGHS on the basis of exceptional photographic evidence of life after death as represented by the floating orb(s). The award is not based on web design, but on the remarkable photographs obtained during investigations that show some kind of paranormal activity that the IGHS believe represents the spirits of the dead in action. This award is issued by the International Ghost Hunters Society, at http://www.ghostweb.com.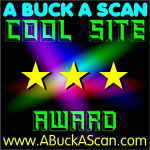 After reviewing the Brisbane Ghost Hunter's site, the people at ABAS were kind enough to bestow the site with the ABAS 3-Star Cool Site Award given by A Buck A Scan. The ABAS 3-Star Cool Site Award is difficult to achieve and indicates the continued dedication shown in developing the site. ABAS wrote, "You should be very proud of your work! We really enjoyed our visit ... Keep up the good work!!" This award was issued by A Buck A Scan, which can be found at http://ABuckAScan.com.



Haunts of Brisbane has been chosen to receive the new Spooky Award for notable homepages from Spirit Search at http://spiritsearch.com. The criteria judged for this award is based on content, overall design, ease of navigation and loading time. Nominee homepages can include some commercial content, but above all must be paranormally informational or simply scare the hell out of us!