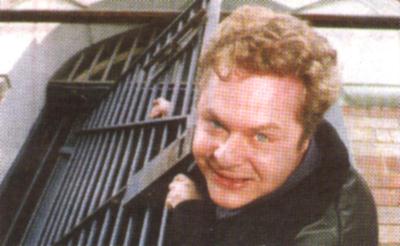 Ghostbuster...Jack Sim at the gates of Boggo Road Jail
Spooky tours speciality
As a youngster, Jack Sim can remember lying in bed paralysed with fear. He would pull the sheets over his head and strain to hear the sound of footsteps on the back steps of his grandparents' house. "It sounds laughable now to think I believed my grandfather's ghost stories," Jack said. "It wasn't until 20 years later when I asked my grandmother about them, expecting her to laugh, did I find out that it was true."
Since then, Jack became interested in preserving stories of ghosts and has now taken his beliefs the extra mile by establishing his own ghost tour. Brisbane Ghost Tours are designed to present chilling tales from the next world in an informative and interesting manner. A driver and a minibus take people to a number of spooky locations in and around Brisbane.
Jack said tours are limited to 20 people to ensure the atmosphere is personal and respectful of those who have departed this world but have not made it to the next. A monthly inner city tour is currently operating while a tour of the western suburbs will begin later this month. Tours run for a little more than three hours and include visits to haunted hotels, jails and a cemetery.
"Whether you believe in ghosts or not, the occurences experienced by many people are deserving of being recorded...their often sad tales encourage us to try and live happy," Jack said.
*Phone (07) 3344 7264.
This story was taken from "South-East Queensland Tourism", June Edition on page 7.