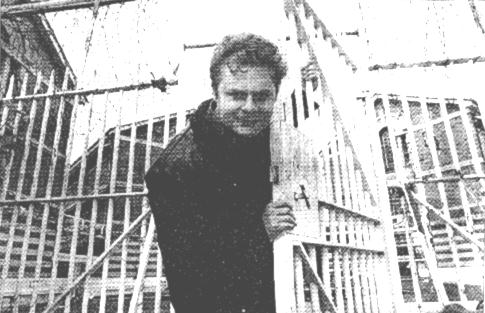 The spooky Jack Sim at Boggo Road jail
Determined to find ghosts
By Wendy Vukosa
If there's something strange in your neighborhood, who you gonna call? Ghostbusters?
Maybe not, but Jack Sim, who runs Brisbane Ghost Bus Tours, would love to hear from you. From Saturday Jack is starting a bus tour through the western suburbs showing curious people where ghosts have been seen. Although he has already tracked down about 10 sites including Toowong Cemetery and private houses and haunted shops, he wants to find new places to keep tours evolving and interesting.
Jack's fascination with ghosts stemmed from his childhood. "My family had a long history of ghosts," he said. "My grandfather used to know a ghost. I thought it was just a family tale but it ended up being quite true."
Jack's grandparents lived quite close to Morningside Cemetery and granddad Ash maintained he used to regularly have a smoke with old Charlie, a permanent resident of the cemetery. "It wasn't until 20 years later when I asked my grandmother about this, expecting her to laugh, did I find out that it was true," Jack said.
"Nana used to walk out at night to call granddad in for his tea. "On several occasions she saw him sitting on the bottom step smoking a cigarette with an elderly gentleman dressed in old-fashioned clothing who was translucent."
Jack has seen ghosts four times and says he lives in a haunted house now. "That re-stimulated my interest," he said. "I have chills down my spine, listening to some of the stories (from people who have contacted him). "It is so intriguing."
Jack said sightings of apparitions or chilling presences seemed to exist all over Brisbane. He also has an inner-city tour which takes in sites at Petrie Terrace, Spring Hill and South Brisbane.
The tours encourage people to form their own opinions about ghost stories by visiting the actual sites of incidents. The western suburbs tour is $25, is three hours long and limited to 20 people. Bookings to 3344 7264.
This story was taken from "Westside News", Wednesday June 10 on page 4.