New South Wales
Picton Ghost Tours
Want to Try Something Different?
Sick of the same old outings?
Tired of harbour cruises and theatre restaurants?
Fed up with noisy nights at a crowded club?
YOU ARE?
So submit to a nerve tingling night out. Come along and meet the past residents of Picton. With Liz's inside knowledge of local ghosts and their haunts, guests are treated to tales of some of Picton's scariest residents and visit their haunted hideaways.
Participants have a choice of a two course meal tour or a supper tour.
The two course meal or supper is provided by "The Hideaway" Function Centre, Davison Lane, Picton. The two course meal ghost hunts take approximately four and a half hours all up. They are held on the 2nd and 4th weekends each month. The evening begins at 7-30pm on Saturdays, and 8pm on Fridays with the main course. Following that, participants head out for the hunt which takes about two and a half hours and finishes with dessert and coffee back at "The Hideaway."
For the dinner nights, the main course in summer is a buffet style meal with hot chicken, leg ham and a variety of salads. Hot food, buffet style is provided in the winter. There is a choice of two desserts plus tea or coffee. The supper ghost hunts start at 7.30pm on Saturdays and 8pm on Fridays. Participants meet at "The Hideaway" and do the tour first and finish with a supper at the end. The supper nights take about three and a half hours.
On the supper tours, a variety of hot and cold finger food is served plus tea and coffee or a cold drink.
Over the last four and a half years, local residents have come forward to tell Liz of the paranormal activity within their homes and workplaces. This has meant Liz has collected too many stories for one tour and so from the 1st April 2002 there are three ghost tours. "Lower Picton", "Around the Railway" and "Upper Picton (Redbank)". For those who have been before, the railway area tour and the Upper Picton tour show participants the sites they didn't get to see on the Lower Picton tour and many of the stories they didn't get to hear.
On all tours Liz will tell you the background to many of the sites and reveals the ghostly happenings within their walls. She also tells you about some of Picton's more grisly deaths on those sites. Adding to her long list of local history publications, a book, "Ghosts of Picton Past" detailing the tales told on the hunts is available for purchase on the ghost tours. It cannot be bought in outlets where her other books are sold.
Those interested can make single ticket bookings or make up tables of any number..... Cost for dinner tours: $48.00
Cost for supper tours: $33.00
Cost for tour only: $22.00
Bookings are essential. For more indepth details of these tours, enquiries should be made to Liz Vincent on (02) 4677 2044, or you can visit her website at http://www.lizvincenttours.com.au.
Parramatta Old Government House Tours
Come and hear tales of Parramatta's oldest residents. Hear chilling tales of the 'Blue Lady' and visit the room were she is most commonly seen. Take a trip through the dining room, where ghosts of servants past still linger to clear the table. And if you are game, why not creep down to the cellar where ghosts have also been seen. Each of the Ghost Tour's are split into a couple of groups, where experienced guides will take you through the house relaying tales of the house's previous occupants who liked it so much they chose to stay.
Bookings are essential as the tours get booked out really quickly.
The tours are taken around the house by candlelight. Quite a lot of psychics go on the tours so it's always interesting to find out what they thought at the end of the evening. Supper is provided afterwards by the ladies and you can have a chat to everyone and discuss the ghostly stories. Ghost Tours run from 7.50pm to approx. 10.30pm at $22.00 per person (includes supper) Bookings are essential PH: (02) 9635 8149 during business hours.
Quarantine Station, North Head Tour
Quarantine Station Ghost Walk:
Stories of haunting phenomena date back more than a century, when nurses on night shift reported seeing ghostly chinamen with long ponytails wandering through the wards and across verandas. While Park Rangers living in the Station regularly report seeing ghostly figures and lights in unoccupied hospital wards, but upon investigation find no one present and nothing amiss.
Visit the haunted Quarantine Station at night where strange things can happen after dark! Hear of the strange happenings as well as the amazing history of the Quarantine Station by the light of Kerosene lamp. Supper of tea and damper is served after the tour to calm the nerves. Tours are held on Wednesdays, Fridays, Saturdays and Sundays at 7:30pm at $22.00 (Wednesdays only), or $27.50 per head (All other times).
All tours are usually filled quickly so booking ahead is a must. To book, phone (02) 9977 6522.
Jenolan Caves Ghost Tours
A two hour tour both above and below ground that tells you of the unexplained happenings that have occurred at Jenolan in the past. Hear about Miss Chisholm who is still "seen" in the dining room of Caves House or Mrs Birch, a ghost every mother would like to have around. This tour runs every Saturday night and bookings are essential.
All participants - $27.50
You can contact the Jenolan Caves Reserve Trust for booking information on
(02) 6359 3322 or through their website located at http://www.jenolancaves.org.au.
Monte Cristo Ghost Tours
Listed as possibly Australia's most haunted house, this historic two-storey house in Junee with its wide verandahs and beautiful wrought iron work is now open to thousands of visitors each year - and they all want to know about the ghosts and tragedies associated with this sprawling mansion.
Started in May, 2000 the first nighttime tour was an overwhelming success and we have continued to run ghost tours on a semi-regular basis ever since. Cameras, and video recorders are welcome........see if you can capture an anomaly on film like some of our other visitors have! Dinner and tour costs $45.00 per person, with limited accomodation within the homestead for an additional $55.00 per person per night.
In order to contact Monte Cristo for bookings or more information, phone (02) 6924 1637 or visit them on their website located at http://www.montecristo.com.au.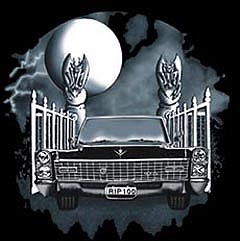 Destiny Tours
Under the cover of darkness, we'll show you a bizarre and fascinating side of Sydney you never knew existed, in the comfort of one of our beautiful Cadillac hearses. This is the history they don't put in the text books. This is the Sydney they don't put in the guide books. And this is the tour that shines the spotlight onto the tantalising skeletons in Sydney's closet.
Sydney is a city that began as a poorly planned solution to Britain's overcrowded prisons and it was only by good luck it survived its formative years. Now it has grown into the best place in the world to live – and the world's most desired tourist destination. But what a past our city has! Exciting and extraordinary, ghastly and ghostly, uplifting and downtrodden.
Come with Destiny Tours Sydney to discover this undiscovered side of Sydney in a fun filled tour experience you'll never forget. Our informative and entertaining commentary will tell you about the famous and infamous who shaped the history of Sydney, and the scandals and secrets that have spiced our lives since the very first days of European settlement.
Enjoy the attention as you are transported (vertically) in one of our beautiful haunted hearses, either Elvira the black 1967 air conditioned Cadillac or Morticia our grey 1962 Cadillac with stunning snow leopard interior.
Cost:
Weird Sydney Ghost and History Tours - $69.00 per head
Weird Parramatta Ghost and History Tours - $65.00 per head
For all enquiries and bookings, please phone Allan the Hearse Whisperer on 0414 232 244 or visit www.destinytours.com.au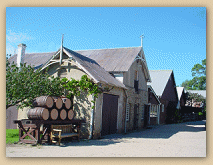 Gledswood Lantern Light Ghost Tours
Chill out with a spectral special, Gledswood Homestead's Ghost Tour. Enjoy a delicious three-course dinner by candlelight & a spine-chilling session of Gledswood's history, told through the experiences of its ghostly visitors.
Soak up the atmosphere of the historic buildings as you hear about the Lady in White, Mr Stucky the coachman and of course, old Miss Chisholm, a poltergeist, whose presence is still felt today.
The Lantern Light Ghost Tour includes an Audio Visual presentation, a talk on the people that lived and worked on the property, a lantern light guided tour of the most active locations and a 3-course dinner.
· Private nights or dinning rooms for groups of 20 or more can be organised. Midnight Ghost tours are available by arrangement. For details on pricing and bookings, phone (02) 9606 5111, or visit www.gledswood.com.au