There are a great number of cemeteries in the Brisbane area, and with a bit of research one can find quite a few more than those that the council actually lists. Here I will give you a list of the larger, easier to access cemeteries within the Brisbane area. Please let it be known that entry to any cemetery in Brisbane is subject to very specific rules - no access between sunset to sunrise (access is permitted in most cemeteries between 6:00 am and 6:00 pm). To enter a cemetery outside of these hours is an offence and will be dealt with in full accordance with the law. Please abide by these rules, as the Brisbane Ghost Hunters do not take any responsibility for those disrespectful enough to breach these laws. Anyone who wishes to enter a cemetery after dark should do so legally with a tour group such as 'Ghost Tours'.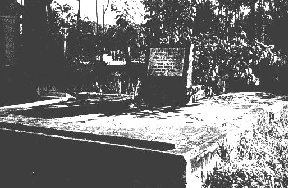 Brookfield: Brookfield cemetery is a beautiful, very peaceful area. Located on the corner of Brookfield and Gold Creek Roads, Brookfield Cemetery was opened in 1882. This is a very peaceful cemetery, and one can spend extended time here walking in amongst the graves. Unfortunately, there have been a couple of vandalism incidents here in the recent past with graves being damaged, however the cemetery is still very tranquil. Therefore, please do not venture here during the night, as the cemetery is regularly patrolled, and we do not wish anyone getting into serious trouble due to the stupidity and lack of respect of others. The cemetery itself appears to be seperated into two sections, and the older part of the cemetery does not hold many graves, however I believe there are plans to reopen this cemetery as a lawn cemetery. The last time I was there the revamp was well underway.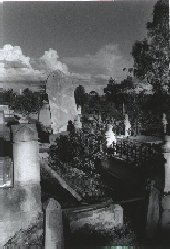 Bulimba: This cemetery has a little bit of a forboding feel to it. Located on the corner of Wynnum and Bennets Roads, Morningside, the cemetery was opened in 1875. It sits on the top of a hill and cuts down its side to the road. A road leads through the cemetery and circles it, cutting back and onto the road. There are many graves here with some very intricate designs, but is still a little spooky. Ghost stories here mainly relate to sounds, as well as the occasional apparitions seen to move amongst the gravestones. All in all, this cemetery has quite a bit of history and the ethnic background of the graves adds an extra field of interest to those who would like to see differing styles of cemetery sybolism to the norm.
Dutton Park: Also known as South Brisbane Cemetery, Dutton Park Cemetery was opened in 1870. This cemetery is located on Annerley Road in Dutton Park. In the past, we have recorded huge temperature drops in this cemetery just next to the old Sexton's office. Also, this is the home of the famed 'Silverman' - a ghost that races through the cemetery and glows a weird silver colour as if wrapped in aluminium foil. Unfortunately, this is yet another cemetery that has been vandalised to a massive extent in the past. Please use caution when moving about this cemetry as some of the graves are in disrepair and may pose a safety risk if you were to slip in specific areas. Other than that, this is another beautiful cemetery in the same respect as Toowong, with heaps of history to be found in the epitaphs on the tombstones.
Goodna: Goodna Cemetery can be found on Stuart Street in Goodna. The cemetery itself is seperated into two different sections, the older original section being further down the back away from the road with a more modern section at the front. The older section has a very peaceful feel to it, and is interesting to visit for the cemetery symbolism splashed across the tombstones. However, stories exist within Goodna cemetery within the older section of aggressive spirits who attack those who venture into the cemetery after dark. Many have taken these stories to be humerous only to find themselves on the receiving end of something nasty. Many have fled the cemetery sporting scratches all over their bodies for their efforts - one visitor jumped into his car in an effort to escape to find that no matter how heavily he revved his car it would not move. Eventually he managed to get his car moving and raced to a friend's place, to find huge claw marks along the sides of his car as if something had been holding him back...the reason for the car's inability to move whilst still in the cemetery!
Hemmant: This cemetery was originally known as Tingalpa Cemetery, but has since been renamed Hemmant Cemetery. Opened in 1875, Hemmant Cemetery can be found on the corner of Hemmant & Tingalpa Road, off Wynnum Road, in Hemmant. A component of this cemetery consists of a monumental section, although most of the vast area within the cemetery has been designated as a lawn cemetery. Stories exist of a children's section within the cemetery where apparitions have been seen, still playing with each other amongst the graves as these children would have done in life. Other than this, Hemmant does not seem to possess the same quantity of tales that other cemeteries do. This may be due to the location of the cemetery, which is fairly isolated from Brisbane City, in the fact that fewer people head out that way - hence fewer sightings and experiences.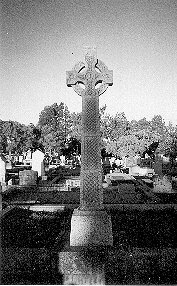 Lutwyche: This is one of the larger Northside cemeteries in the Brisbane area. Lutwyche Cemetery is located at 422 Gympie Road in Kedron, opened in 1878. We have only ever ventured into this cemetery during the day, so we do not really know what the general vibe is at night. Some have said that this cemetery gives off bad feelings, although we did not witness anything like this. Although, one point of interest is the fact that on entering the cemetery, it was really noticably colder inside than outside. I was surprised at this fact, although this may just be a sign that there is a lot of spiritual activity going on here. One note - the cemetery seems to have undergone a little bit of vandalism, with some graves in disrepair and quite a few alcohol bottles having been left laying around. This cemetery has also played part in the appearance of a few apparitions, although sightings are relatively few and far between.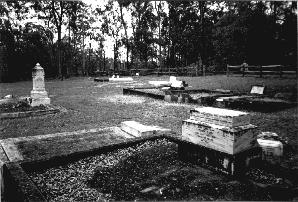 Moggill: Unfortunately, this cemetery has been badly damaged on quite a few occasions by vandals pushing over the tombstones. The cemetery itself is set right back from the road up a bush track, located off Moggill Road in Bellbowrie. It was officially opened in 1865. Anyway, it is worth a look in the daytime, although I would think hard before adventuring there at night. We have a story about this cemetery in the Investigation Reports. This cemetery holds many of the pioneers of the Moggill area. For those wishing to explore larger cemeteries, this one is not for you - there are very few visible graves here, although the ground contains many more as is obvious from the sunken areas in between the existing tombstones. However, for those just wishing to sit and observe, this cemetery is perfect, with a small covered area just outside the fence line where one can sit and ponder the greater questions af life...and death!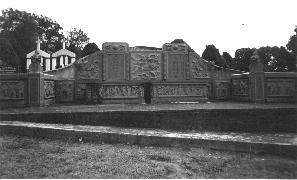 Mount Gravatt: This cemetery appears really big from the outside, but is broken into three sections and is very spaced out. The cemetery is located at 582 Mains Road, MacGregor, just up behind ANZ Stadium. The original section of the cemetery was opened in 1918, the Anzac section in 1962, and the lawn section in 1972. Each sub-cemetery houses the dead of different ethnic groups.If you are a fan of fine stonework, I seriously recommend going through to the back of the cemetery to have a look at the beautiful crypts. Many hours of work must have gone into these, and the results are spectacular. I think the bulk of the graves seem to come from the 1960's and later. Something that surprised us was the fact that even though the majority of graves here date from the 1960's and later, they appear to be much older than they actually are.
Nudgee: This cemetery dates back quite some time, opening in the late 1850's, and can be found on the corner of St.Vincents & Childs Roads, at Nudgee. There doesn't seem to be a great number of ghostly stories associated with this cemetery, however at different times, a figure of a child riding a bicycle has been seen on Childs Road, which is one of the boundaries of the cemetery. This has only been seen at night - people driving along the road report that a child suddenly rides out from the cemetery into their path, but when they swerve to avoid it, the figure vanishes. The most noteworthy victims to date have been Police Officers patrolling the area. Apart from this mischievious spectre, this would have to be one of the most peaceful cemeteries in the Brisbane area.
Nundah: This cemetery is also known as the 'German Station Cemetery' (due to the number of German immigrant burials here), and was opened in approximately 1862. The cemetery itself is located on Hedley Aveue in the suburb of Northgate. As of yet, we have not tracked down any tales of this cemetery, but would be happy to receive some. If you know of any, please email them through to us and we will be sure to follow up on them.
Pinnaroo: Pinnaroo Cemetery is a relative latecomer, and was opened in 1962, located at 3 Bronson Street, at Bridgeman Downs. This is a lawn cemetery, broken up into a number of different sections, and would have to be one of the most peaceful, 'natural' (doesn't have a feeling of being a depressing-style cemetery), cemeteries I have ever visited. Ghost stories are relatively few and far between inside the cemetery grounds, however the stories seem to mostly exist in areas just outside the cemetery boundary. The most persistant story concerning Pinnaroo Cemetery is located on the bus route running alongside the cemetery. During the winter months, the cemetery can become surrounded by a thick pea-soupy fog, that is very difficult to drive through. On numerous occasions, BCC bus drivers have reported apparitions running across the road within the fog in front of the buses, making this route the least sought after in Brisbane - apparently those who are asked to drive it will do anything to try and swap with another driver!
Sherwood: Sherwood cemetery can be found on Sherwood Road in Sherwood. This cemetery is set out very nicely, but is only small in comparison to many of the other Brisbane cemeteries. It is very quiet, and has a very peaceful feel to it. There are graves here that have been moved over from the small church cemetery that used to be on Primrose Street. The cemetery itself is set out in a basic grid pattern with little in the way of trees or bushes - the cemetery itself is fairly devoid of anything but gravestones. As of yet, I have been unable to track down any stories of Sherwood cemetery, however the feeling of the cemetery itself (especially when you drive past it at night!), lends itself to feelings that the cemetery must have had a more colourful past. If anyone out there does have some tales of this site, then please email me.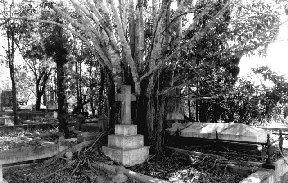 Toowong: This cemetery dates quite a long way back with its opening in 1875, however burials took place here from 1871. The cemetery is located off Birdwood Terrace in Toowong, and is a very peaceful cemetery spread out over a huge area. There are also many beautiful statues and memorials here. Each ethnic group has a different section in the cemetery, so there is a mix of interesting grave designs and languages - the perfect place to study cemetery sybolism! Also known as 'Brisbane General' cemetery, this is by far the largest cemetery in the Brisbane area. It is a great place to photograph with an incredibly interesting history. This cemetery has the full bag of ghostly anomolies - sounds, smells, apparitions, right through to other interesting facts such as bodies that fail to decompose after years of burial (one corpse was said to be in a perfect state as if only a day old after being interred in the ground for an extended period). Unfortunately, vandals have seen to it to destroy sections of this cemetery, which many would have seen in the media over the past year (2001-2002), which has led to major public outcry and the need for tighter security in and around the cemetery.